BraveHearts Lotto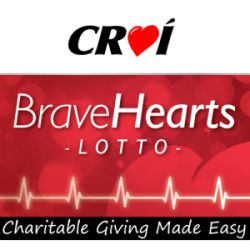 The BraveHearts Lotto is an innovative fundraising initiative delivered by Croí, the heart and stroke charity. The unique aspect of our lotto is the fact that supporters receive a weekly wellness and healthy lifestyle e-zine. We are partnering our need to raise funds with our core mission of enabling people to live healthier, longer and happier lives.
By signing up to the Croí BraveHearts Lotto for as little as €2 per week, supporters will be entered into a weekly Jackpot Draw and into the Lucky Dip if there is no Jackpot winner!
In the Heart of the Community



The Croí BraveHearts Lotto has teamed up with clubs and societies throughout the country that promote a healthy lifestyle and also have a need for funding. Supporters have the opportunity to split 50% of their contribution and provide vital funding to these not-for-profit organizations that work in the heart of the community. Click the here of the Enter Draws now button to see how...
---
August 10 2017

Being updated...

August 3 2017

July 27 2017

July 20 2017

July 13 2017

May 18 2017

Take the salt off the table!
Salt can raise your blood pressure, which can increase your risk of stroke and other health problems. It is recommended to limit our salt intake to maximum 6g per day (1 level teaspoon).



The countdown is on with less than two weeks to go until the 22nd annual Tour de Lough Corrib charity cycle in aid of Croí
2 weeks to go to our annual Tour de Lough Corrib charity cycle.



May 12 2017

Croí were very supportive and it was one less worry on our minds. Read Denis Ryan's story here -
At a very stressful and traumatic time, Croí were very supportive and it was one less worry on our minds. Read Denis Ryan's story below.






Is there anyone you know who would be interested in hearing about the BraveHearts Online Community?

Click here to email your friends and help us to 'Spread the Word' »