Irish Hockey Association Lotto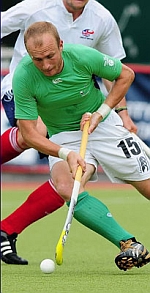 Welcome to the official Lotto website of the Irish Hockey Association. The Irish Hockey Association Fundraising Lotto draws, which run on a weekly basis, will play a huge part in the fundraising efforts of our Hockey Association.
We encourage all of our members, past and present, and community to play the Irish Hockey Association fundraising lotto. We also hope that we can all work together to promote this fundraising initiative and help get back in touch with people who have an interest in developing Hockey in Ireland. Obviously this support can now come from all parts of the globe, so letís get back in touch with our hockey community both near and far. It's fun, so while you are
participating
in the development of Irish Hockey, and you could also scoop the jackpot!! If there is no winner the jackpot will rollover each week until it is won.
Incidentally there will always be a winner as we will be picking two Ä20 lucky dip winners each week.
That's the Irish Hockey Guarantee - There's always a winner.
Any four numbers are selected from 1 to 32. If anybody matches the four numbers selected on the night he/she wins/shares the Jackpot. If there is no Jackpot winner there will be two lucky dips prizes for Ä20 each. Tickets cost Ä2 each.
Once you are playing, you will receive weekly updates by e-mail.
You can visit our main website at:
www.hockey.ie
Your continued support is much appreciated and we wish you good luck in future draws.
Best of Luck,
Irish Hockey Association
Dublin
---
March 13 2012

Being updated...

March 6 2012

Being updated...

February 28 2012

February 21 2012

February 14 2012

March 3 2011

Make Sure Your Club Nominates for the ESB Electric Ireland Irish Hockey Awards
Donít forget to encourage your club to nominate for the ESB Electric Ireland Irish Hockey Awards.



Save the Date Now For the ESB Electric Ireland Irish Hockey Awards 2011
The ESB Electric Ireland Irish Hockey Awards will take place on the 21st of May 2011 in the Burlington Hotel, Dublin.



Summer Camps - Book Now!
The IHA are please to announce we are running 5 summer camps for boys and girls this year following on from the success of last year's summer camps.






Is there anyone you know who would be interested in hearing about the Irish Hockey Association Online Community?

Click here to email your friends and help us to 'Spread the Word' »