Drumkeerin GAA Club Lotto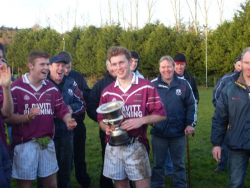 Welcome to the official Lotto website of Drumkeerin GAA Club in Co. Leitrim. The Drumkeerin GAA Club Fundraising Lotto draws which run on a fortnightly basis play a huge part in the fund raising efforts of our GAA Club.
Founded in 1933 and representing the parish area of Inishmagrath in North Co. Leitrim, Drumkeerin GAA Club has a strong tradition at underage and adult level sport for many years.
We encourage all of our ex members and community to play the Drumkeerin GAA Club fundraising lotto. We also hope that we can all work together to promote this lotto and help get back in touch with people from Drumkeerin, Inishmagrath, Leitrim who may now be living all over the world.

Any four numbers are selected from 1 to 26. If anybody matches the four numbers selected on the night he/she wins the Jackpot. Tickets cost €2 each.
Your continued support is much appreciated and we wish you good luck in future draws.
Best of Luck,
Brendan McNama and Committee
Drumkeerin GAA Club
Leitrim
---
December 19 2009

December 5 2009

November 21 2009

November 7 2009

October 24 2009

March 2 2009

Club Notes - March 2nd 2009:
One For The Diary: The countdown has well and truly began for the very special visit of Sam Maguire to the parish on Thursday the 2nd of April. The legendary cup will be one of the special features of the club's social night which takes place in the community centre. Medals for all of last year's winning teams, as well as players of the year awards will be handed out on the night...



February 2 2009

Club Notes - Feb 2nd 2009:
The club's coaching officer Francis Davitt has organised for a coaching course to come to Drumkeerin later this month. The course will take place over two days on Friday 13th/Saturday 14th February...



January 26 2009

Club Notes - Jan 26th 2009:
Well done to Colm Clarke who made an explosive start to his Leitrim career against Sligo on Friday evening. Leitrim won on a score line of 1-9 to 1-8 and Colm's great second half goal was decisive in that victory. With the national league beginning this weekend in London the whole club would like to wish him and the team the best of luck....






Is there anyone you know who would be interested in hearing about the Drumkeerin GAA Club Online Community?

Click here to email your friends and help us to 'Spread the Word' »