Rathnure St. Annes GAA Club Lotto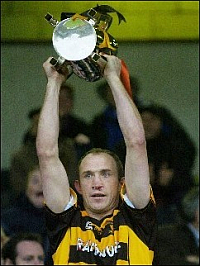 Welcome to the official Lotto website of Rathnure St. Annes GAA Club Co. Wexford's most successful hurling club. The Rathnure St. Annes GAA Club Fundraising Lotto draws which run on a weekly basis play a huge part in the fund raising efforts of our GAA Club.
Rathnure St.Anne's GAA Club has had an illustrious career. The club has gone on to become the most successful hurling club in Wexford, collecting twenty senior county hurling titles and a solitary football one also. We hold a very impressive six Leinster club championship titles. Despite not winning an All-Ireland club title during our history, we have appeared in more All-Ireland club finals than any other side in the country. The success of the hurling sides throughout the past can arguably be attributed to the fact that Rathnure St. Anne's GAA Club only field one junior football team, whilst catering for hurling sides right from the under 8's to the seniors. We would rather have you believe that tradition is where our success starts from. In 2006, our 75th anniversary year, we were crowned county champions for a 20th time.
We encourage all of our ex members and community to play the Rathnure St. Annes GAA Club fundraising lotto. We also hope that we can all work together to promote this lotto and help get back in touch with people from Rathnure, Enniscorthy, Wexford who may now be living all over the world.
To play, any four numbers are selected from 1 to 32. If anybody matches the four numbers selected on the night he/she wins or shares the Jackpot. There is also a match 3 prize, if anybody matches three numbers selected on the night he/she wins or shares €200. Tickets cost €2 each.
Your continued support is much appreciated and we wish you good luck in future draws.
Best of Luck,
Martin Redmond and Committee
Rathnure St. Annes GAA Club
Enniscorthy, Wexford
---
September 19 2023

September 12 2023

September 5 2023

August 29 2023

August 22 2023




Is there anyone you know who would be interested in hearing about the Rathnure St. Annes GAA Club Online Community?

Click here to email your friends and help us to 'Spread the Word' »