Sligo Rovers FC Lotto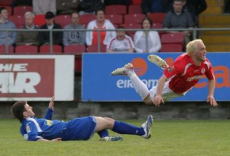 The Showgrounds development programme is transforming the ground into the most attractive Eircom League venue in the country.
The key to the success of the development programme is the dynamic partnership between the club and its key stakeholders – its shareholders, supporters and sponsors, and the relevant Government and Sporting agencies, The Department of Sport, Football Association of Ireland and the Eircom League.
We will continue our simultaneous developments on a number of fronts – on the field, we expect our focus on youth and underage football will yield substantial long-term benefits. Off the field, our ambitious development programme will ensure that the ground will very shortly be the best League of Ireland venue in the country, befitting Sligo's status as a Gateway City.
Our Lotto draws, which run on a weekly basis, play a huge part in the fund raising efforts of the Club. To play, any four numbers are selected from 1 to 30. If anybody matches the four numbers selected on the night he/she wins or shares the Jackpot. There is also a house draw on the night where one Match 3 ticket holder is drawn for a €200 Tesco voucher.
Best of Luck,
Frank Beirne & Committee
Sligo Rovers Football Club
Sligo
---
June 14 2021

June 8 2021

May 31 2021

May 24 2021

May 17 2021

October 21 2008

Halloween camps announced
Following on from the success of the Sligo Rovers Summer Camps the club are delighted to announce that they will be running a...



September 22 2008

A league team supreme against Drogs
Sligo Rovers A-League team faced a tough test at the Showgrounds on Saturday afternoon when they played third placed Drogheda United...



September 12 2008

Press Release - Financial update 08/09/08
Sligo Rovers F.C. would like to announce that a total of €96,925 has so far been raised as part of our efforts to keep the club from going out of business by the end of the season...






Is there anyone you know who would be interested in hearing about the Sligo Rovers FC Online Community?

Click here to email your friends and help us to 'Spread the Word' »