Mayo Gaels GAA Club
Club History..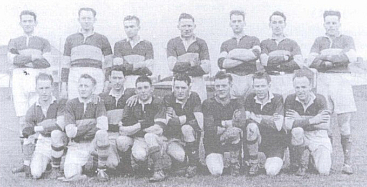 The History of Mayo Gaels

Tales of The Gaels
by
Anne Duggan
In 1932 Mayo Abbey formed its first GAA Club, under the chairmanship of Richard O'Gara, Corskeagh. The Secretary was Pete Browne and Bill O'Donnell was Treasurer. They held their first meetings in Stephens' horse stables and chose for their colours green and gold. They didn't enter any competitions for the first few years, just played seven-a-side at Sports and Tournaments.
In 1934 they entered the South Mayo Championship and changed their colours to blue and white. They won that championship in 1935, defeated Louisburg in the County Semi Final and drew with Killasser in the County Final. That final was played in Joe Nally's field on St. Stephen's Day 1935. The referee was Seamus O'Malley, Claremorris, who is very much hale and hearty to-day. There was a dispute over a goal scored by Henry Hurst. The goal was disallowed so the matter had to go before the County Board. The replay was delayed until the summer of '37. It was played in Bohola, and Mayo Abbey unfortunately lost. There wasn't any Junior Football played during the war years. In 1946 (see photograph) their moment of glory came, when they conquered Ballaghadereen in the County Junior replay in Ballina on December 1st during a hurricane, and what dedication from players. The Dixon brothers had bought cattle from Jimmy Browne, Summerhill and on that Sunday morning they had to be walked from there to the Bacon factory in Claremorris. They sent word with Hubie McNicholas that they might be late for the game. But the teams were just lining up for the throw-in, eight facing eight, in the center of the field when the Dixon's arrived in their Baby Ford, and came running up the field to take their places. No need for press-ups those days! Getting home from the match was another saga. Roads were blocked with fallen trees. Peter Paul Costello and his crew had a narrow escape when a tree crashed right in front of his car, which then ran into it, smashing the radiator and mudguards. Other hackney drivers were Jimmy Murphy, Balla and Jackie Joyce, Hollymount. They had to return to Ballina. Some got seats in Mick Malone's van, which ran out of petrol half way to Foxford. They set of walking to Foxford Station and caught the early morning train to Balla (2 shillings) and walked from there home. Hubie and Willie Sherlock arrived back in Stephens, Mayo Abbey at noon and got the loan of two bicycles there to go the final few miles home. Willie was particularly pleased because he had a £5 bet (a sizeable sum in those days) on Mayo Abbey with a man from Ballaghadereen
The fifties saw mass emigration from the area so the club lapsed and those players left played with Carramore, Hollymount, Kiltimagh and Ballintubber. On April 17th, 1963 the club reformed again under the Chairmanship and guidance of Paul Judge. They played within the parish only, parish league challenge games and tournament Mayo Abbey, Facefield, Curry, Knockroe and Ballyglass. At the end of the day Mayo Abbey won. The final took place in Conroy's field (Conroy's Bottoms) and was refereed by Fr Jimmy Gibbons. At the end of that year they decided to affiliate and held their first AGM on 8th January 1964. President: Fr Gibbons, Vice President: Fr Heaney, Chairman: Paul Judge, Vice Chairman: Tom Barnicle, Secretary: Isadore Joyce, Assistant Secretary: Jimmy Trench, Treasurer: Tom Hughes. It was a great boost for the club when many players transferred to Mayo Abbey. From Garrymore came Johnny Sheridan, Tom Foye, Padraig Walshe, Joe Charles, Matt Greer and A. Gilligan and from Hollymount came Michael Joe Murphy, from Ballintubber Ray Prendergast, Timothy Nestor, Pa Griffith, Christy Deasy and Malachy Byrne. They trained in what is now Tom Burke's field in the Parks. The entered a Junior Team and played their first championship match against Shrule in Byrne's field in Puntaun on April 19th. The referee was Jimmy Heneghan, Mossbrook and they were narrowly defeated 2:6 to 2:3. The club catered for youngsters from under 15 up. The highlight of 1966 was the winning of the South Mayo under 15 championship, captained by Tom Connolly. They were given a special tribute at the club's first dinner dance in Churchfield House on December 28th 1966.
In 1968 Chrissie Stephens made history by becoming the first lady secretary of a Gaelic Football Club in Ireland. Not much happened football wise for the next few years but the club kept affiliated to facilitate Scor. We entered Scor in 1972 and have been very successful ever since, winning several South and County titles. In 1994 and 1995 the Facefield set dancers took Connaught Titles and did us proud on the All Ireland Stage. They were Karl-Anne and Deirdre Wilson, Leanne and Kerrie Heneghan, John Moran and Patrick Frainey, T.J Jordan, Vincent Moran and James Begley.
In 1975 Mayo Gaels was formed under the chairmanship of Alan Brett and chose blue and gold for their colours. In 1980 they once again took the South Mayo Junior Title after 34 years. On October 7th 1984, the club had one of their greatest victories when they took the County Intermediate Title. In 1988 they were crowned Division 2 Senior League and County Super-League Champions. In 1993 the Division 2 Senior League was captured again win the team having a 100% record in the league winning all 13 games. The club won it's second County Intermediate Title on October 11th 1998. The Division 2 Senior League and South Junior B titles were won in 2000. The Division 5 ("fat lads") County Junior league was won in 2003.
The establishment of Bord na nOg in 1978 proved to be a major success. Paul Judge was chairman and Anne Duggan secretary for many years. It has been said that clubs can be judged by the manner in which they look after their youngsters and in this regard Mayo Gaels have an excellent record. Michael Gibbons took over as chairman in 1993 and when he stepped down in 1996 and he was replaced by Tom Connolly who in turn was replace by Michael McGurrin. The youngsters enjoy their football and Scor competitions and the many celebratory outings. In 1991 we took the under 12's to Croke Park, to the All Ireland Semi-Final. Sean and Evelyn McNamara provided accommodation for all at their home in Leixlip. It was a memorable if somewhat nerve-racking week-end. One one will ever forget the 1998 County U-14 title win when the boys in blue and gold showed the characteristics the club is famous for when they came back from fourteen points down to win the title by a point.
Among the players to represent the club at County Senior level was: Henry Dixon, Pop McNamara, Paddy Brett, Thomas Quinn, Jimmy Curran, Martin Flatley, Seamus Hughes, Willie Nally, John Finn, Charlie Regan and Damien Quinn. Gay Nevin was a member of the county Minor Team that captured the All Ireland Title in 1966 and Adrian Garvey captained the County Minors to All Ireland victory in 1978.
Several players have represented Mayo at junior, U-21, minor and U-16 level. These include James Fallon, Ollie Browne, Dermot Browne, Declan McDonagh, Aiden McDonagh, Dermot Flaherty, John Byrne, Aidan Jennings, Adrian Heneghan, Colm Jordan, John Moran, John Nally, Jonathan Morrin, Derek Vahey, Shane Vahey, Danny Burke and Jonathan Griffin. John Griffin was a selector with the All Ireland winning Mayo u-21s in 1984.
Chairmen of the club down the years: Richard O'Gara, Paul Judge, Alan Brett, Tommie Duggan, Tom Maguire, Gerard Henry, James Fallon, John Daly, Brenard Commons, Michael Vahey, James Duggan and Tom Connolly.
Secretaries : Pete Browne, Isadore Joyce, Chrissie Stephens, Sean McNamara, Pat Commons, Peter Mannion, Phil McDonagh, Anne Duggan and Maureen Burke.
Treasurers: Bill O'Donnell, Tom Hughes, Matt McGurrin, Willie Fitzgerald, Pat Flatley, Alan Brett, John Daly, Richard Duggan, Anne Connolly and Alan Prendergast.
Many thanks must go to Denny Nally, Gay Nevin, and Conroy's Coolmeen for the use of fields for playing pitches for many years, and to Bill O'Donnell for the hall where meeting and Scor competitions were held. It was a very proud day in the life of our club when Abbey Park was officially opened comprising of a splendid pitch, dressing rooms and the club hall. On May 10th 1992 Seamus O'Malley, captain of the 1936 Mayo All-Ireland winning team and the late Sean Flanagan, captain of the 1950-51 winning teams did the honours, and on
June 7th 1997, the final touches were put to our magnificent new stand, officially opened by John Maughan and blessed by Fr Austin Fergus P.P. During the 65 years of our club's existence, many great players have given hours of entertainment and enjoyment to people. Many of them and their staunch supporters have gone to their eternal reward. They have left a glorious legacy to the present day players and the youngsters of tomorrow.
Titles Won
Junior
1935 South Mayo Champions
1946 County Champions
1980 South Mayo Champions
2000 South Mayo Junior B
2003 County League Division 5 Champions

Intermediate
Intermediate 1984 County Champions
Intermediate 1998 County Champions
1988 Super League Champions
1993 Senior League Division 2 Champions
2000 Senior League Division 2 Champions

U-21
1989 South Mayo Champions
1994 South Mayo Champions
1995 South Mayo Champions
2005 South Mayo Champions

Minor
1989 South Mayo Champions
1993 South Mayo Champions
2002 South Mayo Champions

U-16
1979 South Mayo Champions
1986 South Mayo Champions
1992 South Mayo Champions
1999 South Mayo Champions

U-15
1966 South Mayo Champions

U-14
1978 South Mayo Champions
1998 South Mayo Champions
1998 County Champions

U-13
1994 South Mayo Champions
1995 South Mayo Champions
1996 South Mayo Champions

U-12
1988 South Mayo Champions
1993 South Mayo Champions
1995 South Mayo Champions
1996 South Mayo Champions

National School
1980 South Mayo Champions
1981 South Mayo Champions

Cumann na Bunscoil
1992 Facefield N.S. County Winners
1997 Facefield N.S. Div. Winners (B)
1995 Mayo Abbey N.S. Div Winners.

Reproduced, by kind permission, from the Mayo Abbey National School Centenary Magazine1896 – 1996

Visit our website.
For up-to-date information on all the latest at Mayo Gaels, see our website,
Here you will get all the latest News, Fixtures and Results.
There are match reports from some of our budding journalists.
You can also see details on how to buy Club merchandise, clothing, DVD's etc.