Claregalway/Carnmore GAA Clubs Lotto
Carnmore History..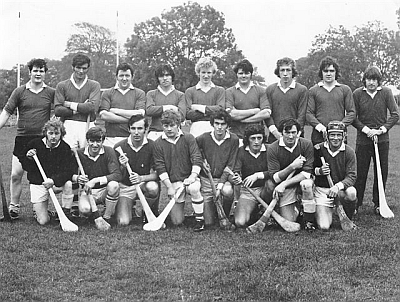 Overview
The townland of Carnmore is located at the southern end of the parish of Claregalway, approximately 8 miles east of Galway city.
Due to its proximity to Galway city and yet retaining its' rural charm, the Carnmore area has become a very attrative place to live. The number of dwelling houses being built has multiplied in recent years and the price of land around the area has risen astronomically.
Local Business
There are a number of business located in the Carnmore area which provide plenty of local employment. Businesses such as Greaney Glass, Tuohy and Grealish, Conneeley Furniture, Glynn's Centra, Grealishes Bar, Newell roofing and J&C Kenny Ltd to name but a few, have been set up by local people and they provide valuable services to the local community and surrounding areas.
Archaeological Interest
There is a beautiful Souterrain in the Carnmore area which was discovered a few years ago - it had two or three chambers and a creep entrance to each chamber which were well built and about 7 foot high. It was filled in because it was close to the foundation of a dwelling house. There is also a Lisheen in Carnmore where mostly children are buried but some adults too. There are also a few Dolmen type burial sites in the area. In Claregalway there is the Franciscan Friary whose walls and tower are in good condition. There are the remains of five castles in the parish, most of them in ruins - Claregalway, Cloghmoyle, Lydican, Lissarulla and Kiltrogue
Land and Farming
The land is mostly dry, reasonably good and is of a sandy loam type. In the Claregalway end of the parish the land is somewhat heavier and is more of a clay loam kind. Also as an amount of it is fairly lowlying it is more subject to flooding. Up until recently the parish was largely made up of a farming community of around 300 houses who earned their living from the land - mostly tillage. Being so close to Galway City this kind of farming suited fairly well as there was a good lot of demand for their produce in what was just a market town in those days of the horse and cart. However, like many another place all that has changed now. Today there are many times more people in the parish who earn their living outside of farming than there are farmers and those who do farm are largely part-timers.
Sport
Carnmore Hurling Club was not founded until 1944, even though there has been hurling played in the parish since the foundation of the GAA (and much earlier). However records show that a team under the parish name of Baile an Chláir played hurling in 1886 and reached their first county final in 1895. However the parish never won a County Senior Hurling Championship although it has taken part almost non-stop in that competition ever since with around equal representation of players from both ends of the parish.
When the Second World War broke out and bicycles became scarce (and almost non-existent as the war progressed) and with the only playing field in the parish (Hesssion's field) being at Claregalway, the two ends of the parish became very far apart due to lack of any transport and with many young men around because there was little or no opportunity to emmigrate many of the Carnmore lads began to puck a ball around in various farmers' fields to pass the time. After a season or so they decided to affiliate a junior team of their own and so the Carnmore Hurling Club was born in 1944. As was the case, like many another places, when the two teams met there was a fairly bitter rivalry but mostly they were good friends.
Because lads who had already played Senior with Claregalway were now playing with Carnmore it did not take them long to make their mark and they went on to win a County Junior title against Clarenbridge at Monivea in 1946. They went on to a Senior Final in 1947 but were defeated by the Army (An Chéad Chath). They remained in Senior for some more years and then it was back to Junior again. In 1955 they won the County Junior Championship once more against Leitirm and in 1961 captured the County Intermediate Championship against Loughrea. However hurling waned in Claregalway in the early 1960's and by the time the new ruling came in that there could, in future, be only one adult team in any grade in the same parish they had not affilated at all for a few years and so Carnmore became the name for the parish hurling teams (Claregalway for the Footballers). Since then the parish has played in five County Senior Championships - losing all of them - to Tommie Larkins in 1971, to Ardrahan in 1974, to Sarsfields in 1992-93 and to Athenry in 1996. In between there has been some successes in other grades and competitions.
The present GAA field at Carnmore was acquired in 1961 - it was got through the Land Commission and is vested in local Trustees. A series of Marquee dances were run from 1959 (when the ground was first sanctioned) to 1965 to fundraise to develop it and to finance the Club (there is a playing field too at Claregalway beside the Leisure Club). Over the years There have been many fine players with the Club, a number of whom played with the County Seniors. Some who come to mind are: Jim Cummins, Martin Murphy, Jimmy Conroy, Mattie Fox, Eddie Hanley, Padraic Fahy, Seán Murphy, James Grealish, Patrick and Murty Killilea, Ronan Walsh, Declan O'Brien and a good number who played for the County in other grades. The Club are indebted to a host of people who, over the years, have given freely of their time and talents all for the benefit of the club at the various grades - they include Club Oficers, Managers, Trainers, ordinary Voluntary Workers, Doctors and First Aid people and they are still doing it as intensely as ever today. We owe them a deep debt of gratitude.
People
There were a good number of well known people in the parish over time - some connected with the GAA, some not - to name a few: Tomás O'Connor who was the Chairman of the County Board for some years in the forties and afterwards County Registrar for many years. A native of Kerry he was National Teacher at Claregalway. He was also a good Referee. Billie Morris who held positions in the County and West Board for a number of years. He was also a popular Referee. Paddy Ruane who gave a lifelong service to the GAA and was in the 40's and early 50's Treasurer of the County Board for fifteen years. He too was in demand as a Referee. Paddy was a son of the late Tom Ruane who was deeply involved in the fight for Irish freedom. Paddy too was involved in politics and was a Sinn Féin County Councillor for almost thirty years, a truly remarkable achievement for one who belonged to just a tiny party and it took a huge personality vote to bring it about.
Noel Grealish is now our new Councillor - a Progressive Democrats man. We congratulate him and wish him the very best. John McDonagh who gave a lifetime to Carnmore hurling club and to the GAA in general. A good Referee he held a number of positions at West board level - he was the Club's first President. Micheál Ó Heidhin was its second and present one. Tom Lenihan, a loyal GAA man who is passionately as active as ever both at Club and County levels. He has held positions with both County and hurling boards. He is currently Oifigeach Gaeilge for the County Board. Maírtín Ó Cadhain who was principal National Teacher at Carnmore for nearly five years. He was dismissed from that position because of his IRA activities. He was later jailed and spent around five years in various jails and in the Curragh internment camp during the war. While there he began teaching Irish, learning other languages and writing books. Later on he wrote two novels - Cré na Cille and Athnuachán and a number of short story books; Idir Shugra agus Dhá Ríre, An Braon Broglach, Cois Caoláire, An tSraith dhá Togáil, An tSraith Tóigthe, An tSraith ar Lár, Páipéir Bhána agus Páipéir Bhreaca and others. He was later to become translator in Dáil Éireann and eventually Professor of Irish in Trinity College Dublin. He died in 1970.
B Ciarán Bairéad who was a folklore collector (in the Irish language) and whose mother was a Murphy from Ballymurphy, Claregalway. He spent many years collecting in and around the parish - Cumann Béaloideas Éireann employed him. Seán Kelly - a native of Cloon, Claregalway who is still hale and hearty. A retired principal teacher he taught at Craughwell National School for many years. He earlier taught in Rosmuck and Derrybrien. A good historian, he also worked in the Irish language department at the National University Ireland, Glaway. He was awarded a Bachelor of Arts Degree in 1955 and he received a M.A. in 1966 for his book "Filíocht na gCallanáin" - he researched and collected the poetry of the Callinan brothers from Craughwell 1791-1846. Micheál Ó Síoda (Mike Silke). He was a famous Senachaí and had an almost inexhaustible store of knowledge, old stories and folklore, which he related mostly in Irish. He was visited by many scholars from at home and overseas - among them were Professor Heinrich Wagner from Queen's University Belfast and Professor Myles Dillon of the Dublin Institute of Advanced studies.
Concúbhar Ó Muirgheasa (Conor Morris). A native of Carnmore he attended Carnmore National school and then went on to St Josephs in Galway for second level and then on to University Collage Galway and he completed his third level education in University Collage Dublin where he qualified as a Vocational teacher. After that he gained the experience of teaching and working in a number of Counties including Galway, Kildare, Cork and Longford before returning to his native Galway to become C.E.O. with that Co Vocational Education Committee in 1986. A trogan worker with great ability and talent, Vocaational Education in the County was brought to a new height under his stewardship. His greatest achievement perhaps was his purchassing immediately he became C.E.O. of an old big house and yard with out offices together with 32 acres of land hill and lake all for £1-00 from Galway Co Council in Petersburg (Ceapach na gCapall) on the Galway Mayo border to be developed in 3 phases and used as an outdoor education centre. For that purpose he began a huge fundraising drive both at home and in the U.S.A. His vision and determination has certainly borne fruit for with the money collected together with generous government grants phase 3 is completed and the official opening by Eamonn Ó Cuiv has taken place on June 2nd 2000. This Centre will stand as a permanent monument to his term in office, which came to a close with his retirement in August 2000. We wish him and his good wife Eileen a long and happy retirement. He will D.V.put it to good use. He never forgot his roots and was always loyal and generous to his native parish.
Go maith siad an céad. GUIMID GACH DEÁ RATH AR NA CUMAINN(IOMANAÍOCHT AGUS PEIL AGUS COMÓGAÍOCHT) AGUS AR MHUINTIR AN PHORÁISTE TRÉ CHÉILE INSAN AM ATÁ LE THEACHT.

History of Claregalway GAA Club..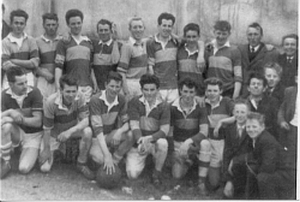 The history of the GAA in Claregalway goes back to the 1800s with a strong hurling team representing the area. The team competed but lost two Senior Hurling Finals in the 1880's. The team continued right up to the 1950s, indeed they won a junior final in 1952. Around that time a club was also formed in Carnmore. When a change at county board level meant only one hurling team from each parish, the Claregalway team was not allowed to continue. This in a way led a group of youngsters to form a Gaelic football team. They played under the name Waterdale from a field in the townland of the same name.
Although not a traditional stronghold of football, the success of the County Galway football teams in the 1950s/60s stimulated the imagination of local football enthusiasts. It was just after Galway's three in a row, 1964-1966 that Claregalway Gaelic Football team came into being in 1968. The first Club officers were Chairman Tom Flaherty, Secretary Peter Greally and Treasurer Johnny Duggan. A Junior team was fielded in the first year, with the playing pitch of Hession's Field, located beside the famous shop in the village.
Business expansion in the 1970s gave rise to an inward movement of people into the Claregalway area, a trend that has continued to accelerate to the present day. From the start, this expansion included an influx of football followers and players from north Galway and other counties. The arrival of Patsy O'Hagan, winner of two All-Irelands with the great Down team of the 1960s, was a big bonus, followed by Gerry Hestor (RIP) and Michael Conroy (RIP) from Ballintubber, Co.Roscommon, Jackie Morris ex Tuam Stars. Claregalway v St.Croans became an annual fixture for the Hestor/Conroy Cup. This constructive blend of new members with locals provided a platform for promoting football. The Juniors achieved their first success in 1975 by winning the West Board League. Underage football was launched with U-16, Minor and U-21 teams competing at top level.
As is the case with most new clubs, the need for a permanent pitch was soon top of the agenda. Eventually, in the late 1970s a new dawn arrived for sports in Claregalway when the search for a suitable facility ended up with the purchase of 7 acres of land in Lakeview from Martin Boyle of Cregboy.
An energetic fundraising campaign was mounted led by Chairman Patsy O'Hagan, Secretary Tom Lehihan and Treasurer Gerry HEstor. The club also set about providing faciliites for indoor sports. Continued fundraising plus a government grant enabled the club to build the Leisure Centre which is in fact a Sports Hall designed to house a variety of activities e.g. basketball, volleyball, badminton and indoor football. It was opened in 1980 and was extended later to include a stage for concerts, drama and feiseanna.
Atheltics featured strongly in local sporting life and the new pitch became a widely acclaimed venue for the Claregalway/Lackagh Community Games. It was an exciting era for young and old alike as they now had access to recreational facilities for the first time.
Having secured a home, the club then set about imrproving the standards of football skills and team performance. The Juniors won the championship in 1986 and promotion to the A division.
A special committee was set up to cater for the seperate needs of Juveniles in 1985. The first Chairman was Marcus Conroy. Successes followed quickly with U-12 championships in 1986, 1987 and 1991. The U-14s captured their first titles in '87, '89 and '93. Participation in the Galway City Leagues was richly rewarded with league honours for U-13s and U-15s in '93, '95 and '96. Another major success for the club was in 1993 when Claregalway won the Co. Galway Feile na nOg and represented the county in the All Ireland Féile in Kerry.
Success filtered up the line and in 1991 the Claregalway minors managed by Seamus Concannon won the double i.e. the county B championship and league. The minors won legues again in '93 and '97, while the U-21s won the West Baord championship in '97 with PJ MCGovern as Manager.
The club won county Junior Titles in 1993 and again in 1998 to achieve intermediate status. Responding to the increasing numbers joining the club in the 90s, Club Chairman Mick Higgins and the committee took on the challenge of organising and financing the construction of a new club house, including dressing rooms and meeting rooms. This was finished in 1997.
Recognising the role of mentors and the importance of good quality coaching the club has organised a number of Foundation Level Coaching Courses for their benefit.
In 2002, Claregalway finally achieved Senior Status after winning the intermediate Championship. That same season the U21's won the B County championship and the Juniors won the North Board League. That same year saw the setting up of the Ladies Club which has grown in strength since then. This was powered by Mick O'Connell ex Killererin. The Ladies have continued to capture cups every year. In 2003 there was a third adult team entered. In 2005 the U-14 and U-12 teams both captured league and championship titles. Our U-10 Community Games team won the All-Ireland. Today the juvenile club continues to expand and achieve success, a trend likey to continue with names such as Tony Clarke, Ray Dooley, Jimmy Gavin, Jarlath Brennan, Geoff Diskin, John and Mark Brennan.